STOCK INDICES TRADING PLAN - EXAMPLE OF TRADING PLAN
Below is an example of a stock index trading plan that a trader can use as a template to come up with one of their own.
JUSTIFICATION FOR A TRADING PLAN
1. TRADING IS A BUSINESS, SUCCESSFUL BUSINESSES ALWAYS HAVE PLANS
Businesses that are successful always start with a plan.
Successful business plan will guide you to success, think of your trading plan as a map; it is a constant reminder of how you will consistently pull profits from the trading stock index.
Difference between a successful Stock Indices trader and a losing trader is the plan.
2. TO KEEP ME IN THE RIGHT DIRECTION
Consistency is important in your trading routine to measure how successful you are as a trader.
Keep you on target, read it every day and stick to it.
IF YOU HAVE A GOOD TRADING PLAN AND YOU ARE DISCPLINED ENOUGH TO STICK TO IT YOU WILL BE SUCCESSFUL.
INDICES TRADING STRATEGY
Our Stock Indices trading strategy will only open bullish trades, this is because stock index moves are based on the principle that stock prices always move up over time, therefore the stock index that track these stock prices movement will over time move in a general upward direction. To open a buy trade we shall wait for a price pullback and buy these dips.
TREND DIRECTION
BULLISH BUY TRADES ONLY
WAIT FOR PULLBACKS - BUY THE DIPS
TRADING SYSTEM
GOALS OF THE SYSTEM
Ability to IDENTIFY A TREND AS EARLY AS POSSIBLE.
Ability to AVOID WHIPSAWS.
A Trading System should find a compromise between the two Goals,
Find a way to identify a trend as early as possible but also find ways to help you distinguish the fake signals from the real ones.
FUNCTIONS OF EACH INDICATOR
MA - Identify a new trend as early as possible.
RSI - Confirm the start of a new trend.
TIMEFRAMES
Main timeframe is the 1H.
Signals are generated on the 1H timeframe.
1H
RULES
LONG ENTRY
1H Chart
Both MAs are moving UP
RSI greater than 50
LONG EXIT
Moving Average gives opposite signal
TRADE ROUTINE
Signals are generated using 1H timeframe.
Signals to be executed immediately rules are met ( Not Before ).
Entry signals should be executed during daytime.
Close all trades at the end of the day.
TIME OF DAY TO WATCH MARKET
Watch market during daytime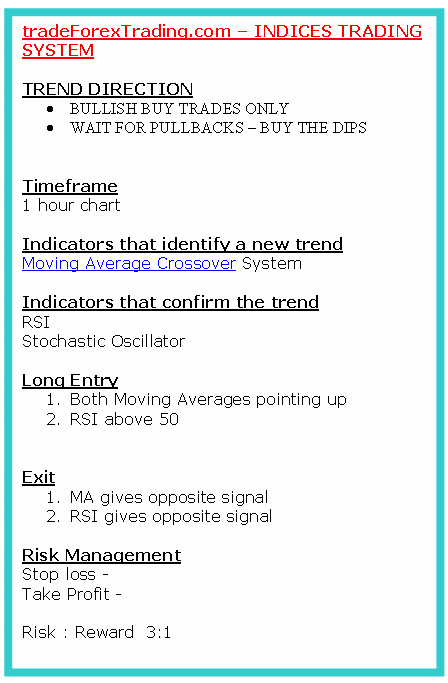 MONEY MANAGEMENT
Day trading - Low risk High return method
Trade when I have a high risk to reward ratio 3:1 or more
Never trade more than 10 % of account total account balance
Never risk more than 2 % on a single trade
MINDSET/PSYCHOLOGY
Trade without Emotions (greed, fear, anticipation, impulse, bias, overexcitement)
I trade what my eyes see not what I feel.
I will be patient.
My job is not to be the trading system!
It is not to decide which trades looks promising.
That is the job of my Forex trading system. My system has a set of rules which tells me this is what I follow. Do not get caught up in price action and make rules as you go along.
MY JOB DESCRIPTION IS
To sit patiently and wait for my system to indicate that it is time to enter or it is time to exit. And then with great focus I execute trade as planned.
Taking trades not indicated by the system, second guessing the system and not taking trades given, hesitating and getting in late, anticipating and getting in early are all common place and boil down to lack of faith in the system and not having a burning focus on accurate execution.
GOAL: To have 100% undivided focus on mastering my ability to execute my Stock Indices trading system accurately.
The more you develop the ability to step back from market movements and watch the market dispassionately, waiting for a signal to trade, the easier it will be to witness the fluctuations of your emotions without getting sucked into them allowing them to throw you off your game.
WEAKNESS
I am greedy.
I overtrade
Make a list of all your weaknesses that are interfering with your trading. This is the first step to help you overcome these weaknesses. Use trading psychology to help you overcome them.
NB: by writing down your weaknesses you will start recognizing them as you trade, once you do this you will start to avoid this mistakes and your trading will improve.
GOALS
To focus on exit just as much as I do on entry.
Always protect my account using stop loss, money management methods, trading with the trend and always following the rules of my trading system & trading plan.
Never second guess or go against my trading system.
To always keep up my discipline.
Follow all the rules of my system and never break them.
Trade fewer times and execute all my trades correctly.
Trade what I see, what the system + charts are telling me.
Sit patiently and wait for trading signals from my trading system.
Achieve consistent profitable trading results.
Write down goals and focus on achieving these goals in your trading
FOLLOW THIS SYSTEM
This is the most important part of creating the system.
Always follow the rules
Stick with the trading rules
Be disciplined and patient enough
JOURNAL
Log all my trades in a trading journal so as to track my progress.