How Do I Get MetaTrader 5 Expert Advisor Free Download?
MetaTrader 5 Indices Expert Advisor Free Download
Once you have downloaded the MetaTrader 5 Indices Trading Software and installed it on your computer. You will then have to open the MT5 Toolbox; The Toolbox can be opened by pressing the CTRL+T keyboard shortcut keys. After launching the toolbox select " Market " tab as shown on the screenshot below.
A list of the available MetaTrader 5 stock indexes trading Expert Advisors for Download and a list of Automated EA Indices Trading Robots will appear as shown below. You can also select a one of the MetaTrader 5 Expert Advisors from the different categories as shown below.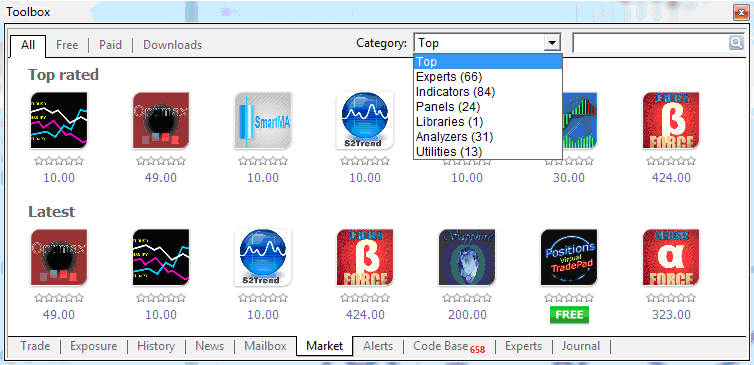 Indices Expert Advisor Free Download - MetaTrader 5 Expert Advisor Free Download
MetaTrader 5 Indices Expert Advisor Free Download
You can select any of these based on categories for the various indices trading application as well as MetaTrader 5 MetaTrader Indices Expert Advisors Automated Indices Expert Advisors as shown above. If you need to learn what is an automated MetaTrader 5 EA, custom indicators, panels, libraries, analyzers and utilities are you need to visit the MQL5 Codebase and MQL5 Coding Community.
Once you have visited MQL5 Codebase for Automated MetaTrader 5 Expert Advisors and decided which type of Automated Indices EA application you require, the next step is to register and become part of this MQL5 MetaTrader 5 coding community.
MQL5 Indices Expert Advisor Codebase
After registering for and MQL5 Indices Expert Advisor Account you will then get an account and you can interact with other forum members and have access to multiple EA Indices Trading Robots. To register - go to the Registration Page on their website and get your account login mql5 details.
After registering in the MetaTrader 5 coding community you will then need to obtain credits. Credits is what is used in order to obtain the automated stock indexes trading systems available. To get credits you will first need to deposit some money into your MQL5 login account.
You will then use this MQL5 account and the password that you obtain to set up the indices trading automation on your MetaTrader 5 stock indexes trading platform. These settings will be set on your MT5 stock indexes trading platform that is installed on your computer, and not on the MQL5 website - but you will first get the MQL5 account login details from MQL5 website then set them on your MetaTrader 5 stock indexes trading platform.
How to login to MQL5 Account and Get MetaTrader 5 Expert Advisors.
Open MetaTrader 5 Indices Trading Platform.


Select the "Tools Menu".


Click "Options Menu".


Select The "MQL5 Community Tab" Shown below.


Type your MQL5 Login Account Name and Password.
Setting Up An Account to Use for Automated Trade MetaTrader 5 Expert Advisors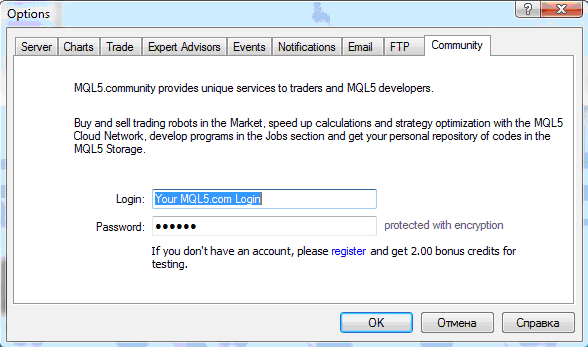 How to Get an MQL5 Account and get MetaTrader 5 Expert Advisor Free Download and MetaTrader 5 Indices Trading Robot Free Download