Is Hanging Man Stock Indexes Candlestick Pattern Bullish or Bearish?
Hanging Man candlesticks pattern is a potentially bearish reversal stock indices signal that occurs during a upward indices trend. It is named so because it resembles a man hanging on a noose up high.
A hanging man candlestick has:
A small body


The body is at the top


The lower shadow is two or three times the length of the real body.


Has no upper shadow or very small upper shadow if present.


The color of the body is not important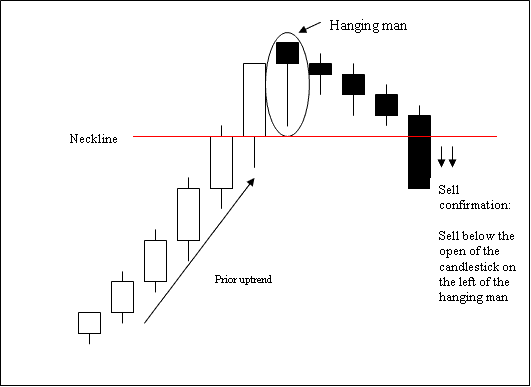 What Happens in Indices Trading after a Hanging Man Indices Candlesticks Pattern? - Hanging Man Candlestick Bearish Pattern
Technical Analysis of Hanging Man Candlesticks
The bearish reversal sell stock indices signal is confirmed when a bearish candlestick closes below the open of the candlestick on the left side of this hanging man stock indices candlestick pattern.
Stop loss orders should be place a few pips just above the high of the hanging man candlestick once a indices trader opens a trade based on this candlesticks pattern formation.