What is a Morning Star Indices Candlesticks Pattern?
What Does Morning star Candlestick Mean? Morning star Candlestick Definition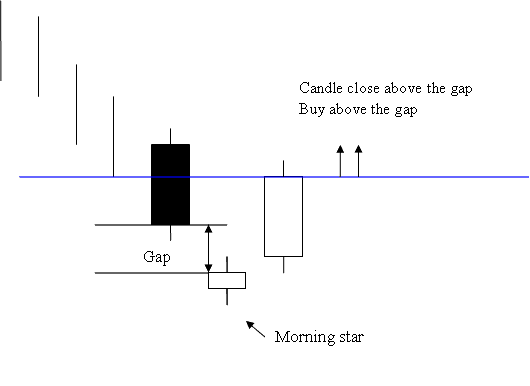 Morning Star Stock Indexes Candlestick Pattern - Indices Candlesticks Pattern
Morning Star Pattern
Morning star stock indexes candlesticks pattern is a three day bullish reversal indices trading pattern.
The first day is a long black candlestick.
The second day is a morning star indices candlestick that gaps away from the long black candlestick.
Third day is a long white candlestick that fills the gap.
The filling of the gap and closing of the white candlestick above the gap is a strong bullish indices signal.
Traders should open a buy indices trade after market stock indexes price closes above the gap formation of the morning star stock indexes candlesticks pattern. This is the confirmation signal of a buy stock indices signal generated by this indices trading Morning star candlesticks pattern.