How Do I Setup For Stock Indices Trading
Stock indices are the newly introduced leveraged products for online trading. Traders wanting to start trading these indices should first of all take time so as to learn how the indices markets work. Traders should take time to learn about leverage - leverage is when a trader is given $100 dollars to trade with for every $1 dollar of their own. For example, if a trader has capital of $20,000 dollars to start with, then after getting leverage from their brokers traders will now control $2,000,000 and they can now open transactions worth up to $2,000,000 dollars. This is what leverage is, a trader gets more money to invest with. This is what makes online stocks indices popular.
However, with leverage a trader has to learn how control this leverage by learning money management methods. Money management methods will show traders how to control leverage so that they can use this leverage to their advantage and make profits.
The best way to learn about the indices is to open a demo account, that way as a trader you will learn about stock index investing without depositing money. The demo account is a practice account where a trader can practice with virtual currency - everything else about the demo account is similar to the real account except for the virtual currency used in a demo account. The demo account will provide beginner traders with access to the real stock index market. A trader can practice with this demo account until they are ready to open a real account and start trading the indices market with invested capital, where profits can be withdrawn and losses deducted from their capital.
Below is a list of tutorials containing all the information that beginners require to start.
3. Market Hours
4. Strategy
5. System
6. Trading Plan
8. Advantages of Stock Indices
The above tutorials will provide beginners with the best starting point when it comes to learning. Other lessons that can be applied to online indices are:
Start Indices Trading - Indices Lessons
How Do I Start
The first thing that a trader has to do so as to start is to download the stock index platform and then install this platform on their computer so as to get access to the online indices market.
Once you have downloaded and installed the platform you will then open a demo account, then you will be ready to start.
The next thing one has to do is to learn the various stock index instruments available for online trading. These instruments are:
EURO STOXX 50
DAX 30
Dow Jones 30
FTSE 100
Nikkei 225
S&P ASX 200
FTSE MIB 40
S and P 500
NASDAQ 100
CAC 40
SMI 20
AEX 25
Hang Seng 50
IBEX 35
In the online stock index market only the most popular indices are available for online trading, these are the 14 that are listed above.
Where to Find these Stock Indices on the Trading Platform
As beginner you may want to know where to find these financial instruments on your trading platform, this is shown below.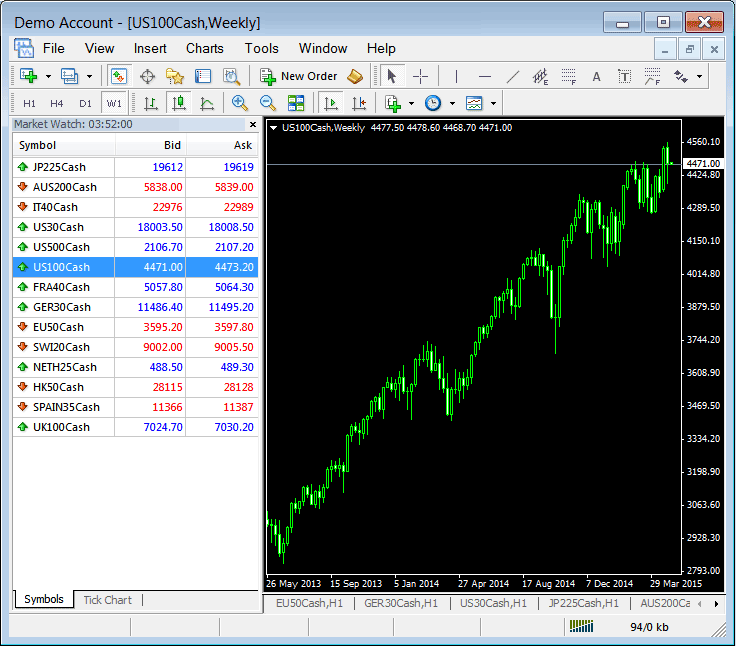 Stock Indices Instruments on Trading Platform
A trader can find these instruments from the "Market Watch" window that is shown above. To find the market watch window on the platform above a trader can follow these steps: click "View" next to "File" at the top left corner, from the drop down menu select "Market Watch", the above Market Watch window will appear displaying a list of these stock index. Alternatively use the keyboard shortcut keys - CTRL+M.
If some of these instruments are not displayed on the platform a trader can follow the steps below so as to have these instruments displayed on the above market watch window.
Right click within the Market Watch window and then select "Show All" as shown below: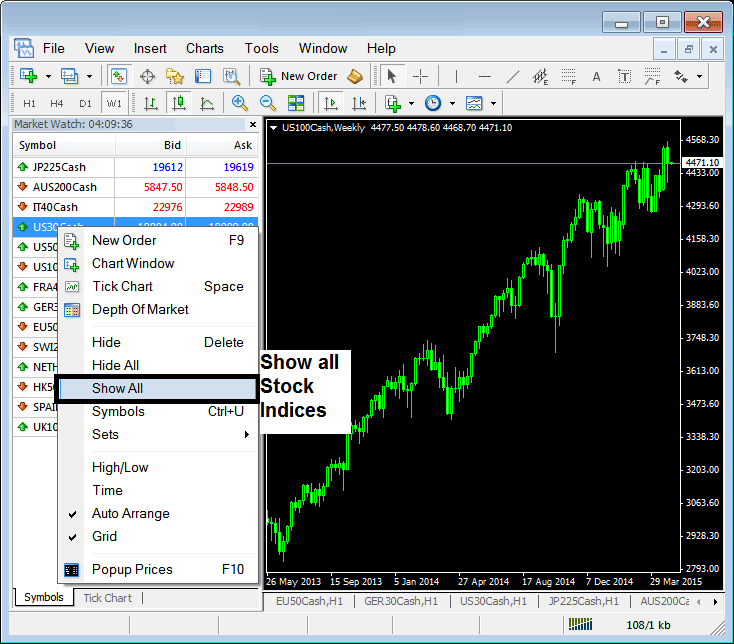 Display all Stock Indices on Trading Platform
You can then select to open charts by selecting a particular stock index and open its chart.
After opening all the instruments that you want you may also want to then click "Hide All" as shown above so as to hide those instruments that you are not trading as well as save internet bandwidth by only streaming the financial instruments that you are trading.
After selecting all the 14 indices as shown above you are ready to start practice trading these instruments on your demo account.
Stock Indices Charts
Stock Indices are analyzed using charts, the indices values are plotted on a chart graph and these charts is then traded like a financial instrument for the purpose of speculation and making profit.
As an example the US100 weekly index chart is shown above. The movement is measured in points. The above index current value is 4471.10 - A trade can buy this instrument and if the value then appreciates to 4471.50, the trader will have made a profit of 40 points. A trader can also sell the instrument and if the value moves down to 4470.50, the trader will have made a profit of 60 points.
For stock index a trader can make money both when the market is moving up or down. When a trader buys this is called going long and when a trader sells this is known as going short.
Stock Indices Brokers
Traders gain access to the Online Stock Indices market through stock index brokers. These brokers are the ones that provide trading platforms, demo accounts, real accounts, trading charts and all the technical analysis tools required for trading stock index.
The brokers charge a small fee for every trade opened which is known as the spread. For example a broker may charge 3 points as their spread, therefore in the above example where profit is 40 points a trader would have to also factor 3 points that are charged for the trade by the broker - therefore the profit would be 37 points after factoring the broker's charges.
How Much Money to Start
The minimum recommended capital to start trading with is $10,000 dollars. Starting with any amount below this will mean that you will be undercapitalized. Most traders start with $10,000, $20,000 or $50,000 dollars, this way they are well capitalized and therefore they have better chances of making profits.
Those traders that start with less capital are undercapitalized and under capitalization is one of the things that makes most traders not to succeed. Just like all other businesses, if you start any business while undercapitalized chances of the business not succeeding are greater as when compared to when you start a business while having enough capital - the same with online indices trading.
How Do I Use Practice Accounts
Practice accounts allow traders to practice trading indices without having to invest or deposit money, this way a trader can learn and decide if stock index trading is suitable for them or not. If as a trader once you have practiced and are making profits on your demo account then you can open a real account, deposit money as capital and start trading these instruments for profits.
The recommended time for demo account practice is 30 days. These 30 days as a trader you will continue to learn topics about indices trading so that you can continue improving your trading skills while at the same time practicing on the demo.
Technical Analysis and Strategies
The nest thing to do is to make a point of learning the various technical analysis topics used to analyze stock index movements as well as strategies used. On this website you will find all the information about these strategies and technical analysis tutorials required to help you improve your skills so as to increase your knowledge and also your chances of making profits in this online stock index market.